Nish Auto Ltd. started its operations in 2011, with a state-of-the-art assembly unit, manned &managed by professionals with Indian corporate background, Ugandan engineering graduates &floor staff.
Today with an installed production capacity of more than hundred thousand motorcycles per annum, we are proud to say we have a large workforce of skilled and trained Ugandan local manpower employed at our manufacturing facilities adopting the best manufacturing practices to achieve optimum output. Quality consciousness has been imbibed in the work culture through consistent practice of Total Productive Maintenance (TPM) & Total Quality Management (TQM).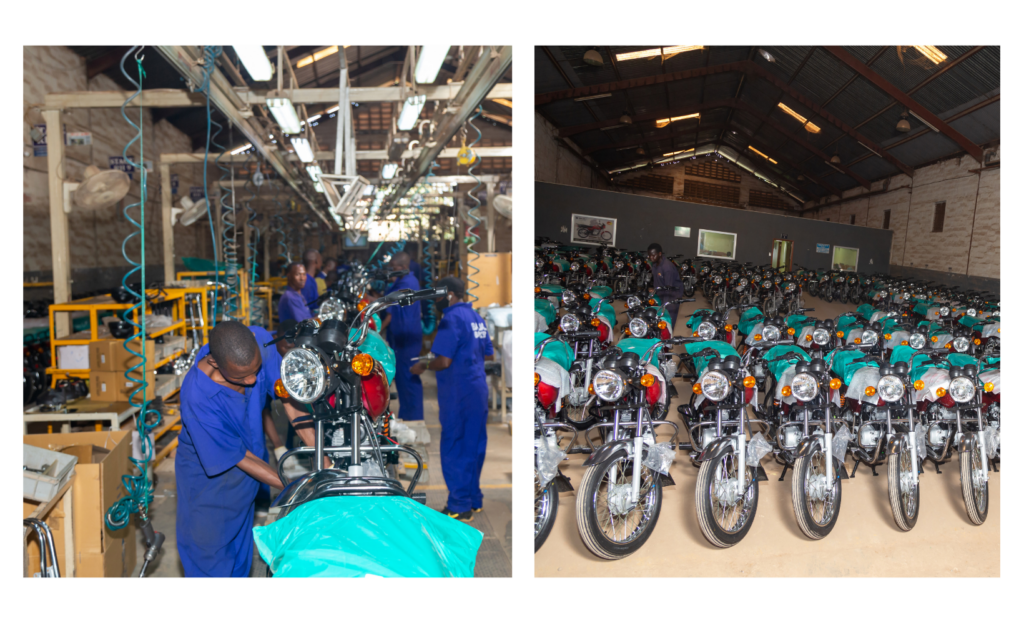 Skilled manpower, up-to-date machinery, hygienic work environment, scientific approach & consistent process adherence fronted with exceptional sales & marketing teams have cemented our "Market leader position" in the Uganda Motorcycle Industry.
The company has created diverse effects both in Uganda and in the neighboring countries in form of revenue contribution to URAof Uganda and to other tax authorities in the neighboring countries. In addition to this, it also offers employment opportunities tothe local population as the current employee number can be estimated up to about 200 staff inclusive of casual workers and sub-contractors at its assembling plant.
Nish Auto Ltd has established dealership networked under their Main distributor VERMA.CO with strategic distribution facilities atstrategic locations across the nation to ensure efficient supplies of product availability across Uganda. All distribution points areequipped with the pre-delivery inspection process to ensure product & performance criteria are adhered to for the benefit of ourcustomers.
The motorcycles are also sold to neighboring Rwanda, South Sudan, Eastern DRC, and to some parts in Burundi.
The Company is managed by a highly efficient administrative team that is being supervised by the two director Mr. Vishal KumarLakhani and Mr. Monish Kumar Lakhani.
The assembly plant is situated in Ntinda industrial area; plot M231 opposite Britania Biscuit Factory in Kampala- Uganda, fullyregistered with NEMA and the Kampala Capital City Authority.
With ever-growing sales in motorcycles, fueling our store growth, we have 62 dealership showroom locations across Uganda. Every showroom is our touch-point with our ever-growing customers. Our store power initiative ensures 100% exclusivity for our stores. We support every showroom with display and uniform branding guidelines, trained mechanics and well-equipped workshops. Beyond the brick and mortar, our tech support with mobile and web platforms to connect with consumers translate to profits for retail business and independent drivers in real-time.
For interest in partnerships please contact [email protected]